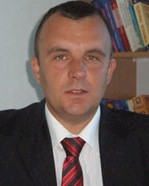 Dear prospective fellow students,Dear future colleagues, business associates and all of you who support College of
Business and Technical Education in Doboj,
It is my honor and privilege to address you with a warm welcome, as the director of this Institution.
Our wish is to provide high-standard education for all those who are interested in the field of business economics, technical management, security management, as well as computer science and informatics, and open new vistas for the applicability
of their accomplishments.
By achieving necessary modern educational and working conditions in this institution, we have created high-quality basis
for monitoring global trends, which results in the establishment of proffesional staff according to the principles of Bologna declaration.
Our goal is to produce qualified personnel, proffesionals who will have competence, straightforwardness and integrativity, flexibility and competitive approach, positive attitude and enthusiasm through developing critical perceptiveness, as well as the high moral standards. For this purpose, we will organize interactive, interdisciplinary and multimedia- teaching through
tutorial system and selfless dedication of our eminent lecturers and established authorities in their field of expertise.
Of course, this requires a lot of hard work, patience and enthusiasm which we can only create through collaborative efforts and dedication of all people involved in the successful realization of this significant social project.
Sincerely,
mr Ladin Gostimirović
Director of VPTS Doboj